This evening as I sit on the couch watching television, Bunny sits beside me, her head wrapped around my leg as usual, and sighs softly. She is feeling a bit sorry for herself this week, because we have not been walking. I haven't wanted to leave Hawk at home alone, so we've been sticking close. She has tolerated this arrangement, but she also walks out the back door with her leash on at turn out time and stares pointedly down the driveway. Tonight, I shared a secret with her.
Me: Bunny, why the long face, puppy girl?
Bunny: I've been deprived of people admiring me and petting me all week. (sigh)
Me: I've been petting you a lot this week!
Bunny: Well, yes, that's true! (small tail wag)
Me: I have something that may make you feel better...
Bunny: You have my attention! Did you hire a puppy petter to come in during the day?
Me: No, but tomorrow is my last day of work for three weeks. I'll be home to pet you and take you places.
Bunny: (leaps off the couch in excitement, then runs back, leaps up and licks my nose) You're the best! This is going to be awesome! (She then runs to the bed and spins around) I'll save some room in here for you!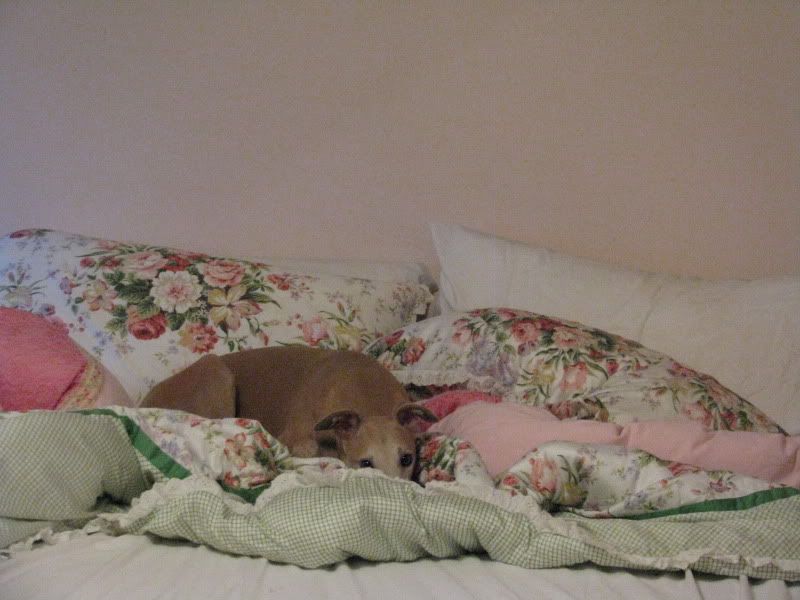 Hopefully, we'll have some good adventures to share soon!